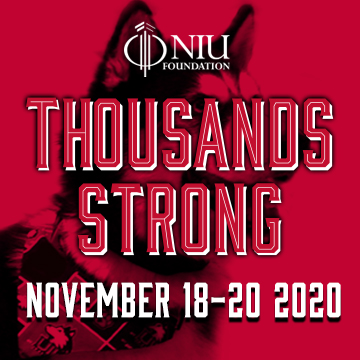 There is strength in numbers, and the Northern Illinois University community has never felt it more profoundly.
From Nov. 18-20, NIU alumni, students, faculty and staff, and friends of the University came together to celebrate the positive contributions Huskies are making each day. "Thousands Strong," which borrowed its name from a famous line of "Hail NIU," the University's alma mater, honored the outstanding alumni and donors who help make NIU an engine for innovation, creativity and social mobility.
The event kicked off with a YouTube Live opening night show that featured student, faculty and alumni success stories, alongside stories of generous scholarship support. The event garnered a total of 1,300 views when it was originally broadcast, shattering our goal of 1,000 views and unlocking a challenge donation of $100,000 from NIU Foundation Board Member John, '74, M.S. '75, and Anne Landgraf, '73. At the time this article was published, a total of 1,790 had viewed the half-hour long show!
The "Thousands Strong" Day of Giving began after the opening night show and lasted for 28.5 hours through 11:59 p.m. on Thursday, Nov. 19. While final results are still being tallied, donors provided more than 2,000 gifts to the NIU Foundation for a total of $2,007,235.
"The generosity of Huskie Nation has been inspiring," Michael Adzovic, director of the Northern Fund, said. "'Thousands Strong' has shown the kind of power Huskies have when they come together for a common purpose. Through these donations, we have ensured that more students will be able to complete their degrees and make a positive impact in our world."
Fourteen challenge and matching gifts were established to encourage giving, led by a $400,000 challenge gift donated by the Landgrafs, which was unlocked when the University reached 2,000 gifts. All seven academic colleges had giving challenges and matches, all of which were met.
One hundred and eleven social media ambassadors helped spread the word about our Day of Giving, and their work helped generate 217 gifts of more than $30,000 in donations through social media.
"Alumni, friends of the University, and faculty and staff really drove the Day of Giving," shared Adzovic. "We are proud that Huskies are Huskies for life, and they are committed to the goals of our incredible University, even in today's challenging times."
Adzovic also mentioned his gratitude toward all campus partners who joined forces for the Day of Giving, which included all seven colleges, as well as units such as Academic Diversity, Equity and Inclusion, the Huskie Food Pantry, Huskie Athletics, the Honors Program and many more.
"'Thousands Strong' proved that NIU is positioned to be stronger than ever," Adzovic said. "We couldn't be more thrilled that this initiative was met with such enthusiasm and Huskie Pride. We are excited to see the positive student experiences that will come from this kind of generosity."