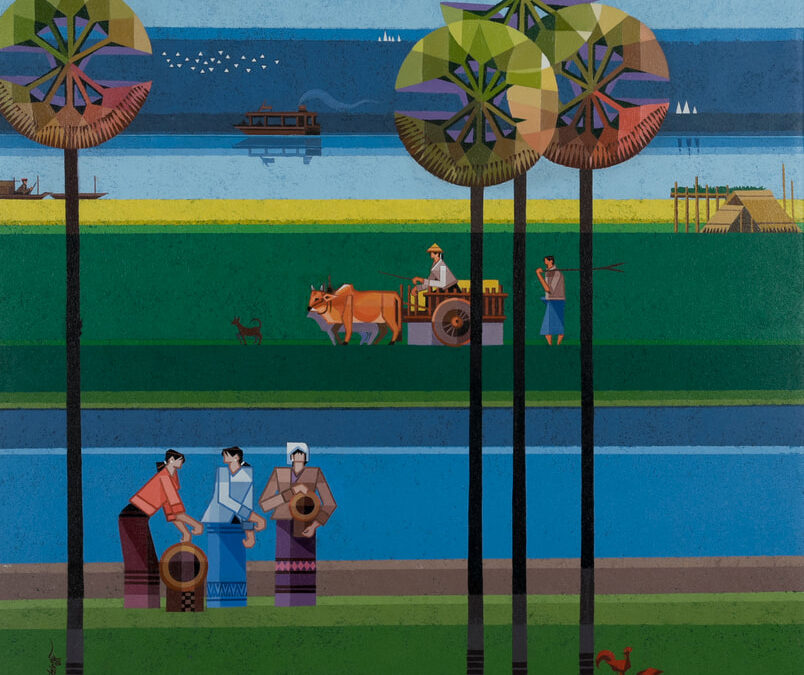 The Center for Burma Studies at Northern Illinois University has launched an online exhibition, "Looking At Women in Contemporary Burma." It focuses on the evolving portrayal of Burmese women as depicted today by Myanmar artists reflects a politico-cultural milieu in transition between tradition and modernity. After some fifty years under military rule, extreme censorship, and isolation, Burma —also called Myanmar— a vibrant artistic scene has emerged welcoming a new era under the leadership of an iconic womanly figure; Daw Aung San Suu Kyi: current State Counselor of Myanmar, and 1991 Nobel Peace Prize laureate.
The exhibition is centered around a recent donation by Professor Ian Holliday, featuring part of a gift of 29 paintings by contemporary Burmese artists executed between 2006 and 2015.  Holliday is Vice President and Pro-Vice-Chancellor of the University of Hong Kong. He has done extensive research into the politics and governance of Myanmar. These works were collected by him during his field research in Myanmar.
The exhibition is one of the events that make up Northern Illinois University's 125th Anniversary year of celebration and reflection.