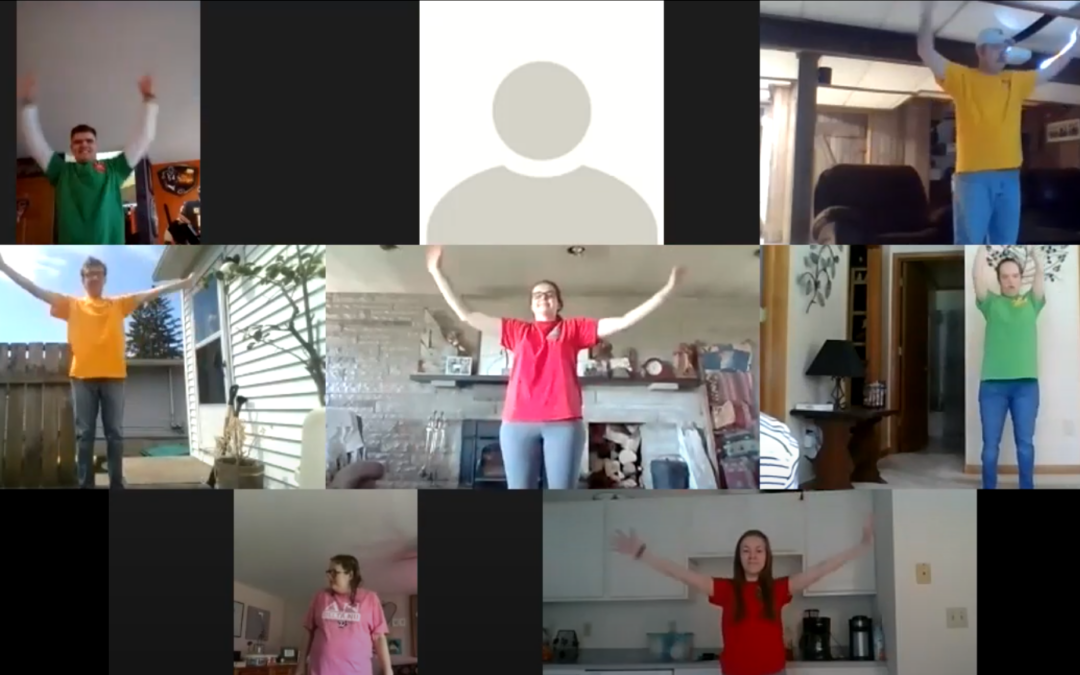 The cancellation of the season's final performances in the College of Visual and Performing Arts had an impact on all students, but for senior dance performance majors Chloe McCoy and Katie Meyer it not only wiped out their final dance performance, but left them in need of finding a show to "tech" as part of their requirements.
How were they going to find a show to work on when nobody could put on a show?
Meyer, a graduate of Wauconda High School who will earn her NIU degree in August with a major in dance performance, a minor in special education and a certificate in marketing and McCoy, a graduate of Batavia High School who graduated NIU in May with a major in dance performance and minors in special education and psychology, started texting each other looking for a solution.
Both had been involved with a local organization that puts on musical theater performances where special needs adults are paired with volunteer mentors who take the stage side-by-side with the performers in rehearsals and performances.
More than a decade ago, Barb and Joe King learned about the Penguin Project and immediately saw it as a way for their special needs son, who loved doing theater, to not only participate but be front and center while doing it. After a couple of years of work they were able to establish a local chapter with DeKalb's Children's Community Theatre, and it was a huge hit from the very first performance.
Joe King, Associate Director of Institutional Communications at NIU, said the experience was magical for the participants, the mentors and the audience with only one drawback. "In the Penguin Project you age out at 22 years old. My son was already 18 and he loved it and he asked me, 'What am I gonna do?'"
Six years ago, the Kings helped form the DeKalb chapter of Penguin Players, the third organization of its kind, for those 22 and older. There are now more than 40 around the country. "We were the first to establish it with a tie to a university," Joe King said. "NIU's special education program has built it into the curriculum for one of its classes and the CVPA students serve as choreographers and musical directors."
So for Meyer and McCoy the solution to their problem became immediately apparent.
"We were like, 'Our show was cancelled, and the Penguins show was cancelled so let's do something with them." They Facetimed with Barb and Joe and came up with the idea to create a YouTube channel where they could teach members of the Penguin Players dance steps and then do an online performance.
"Once all of our classes went online in the spring it gave us the idea," McCoy said. "We were using that kind of a format and it helped us figure out how best to put this together for the Penguins."
Six of the 12 members of the Penguin Project participated. Meyer and McCoy would record themselves doing short elements of the dance so that the performers could practice and then they put it all together for a final performance.
McCoy said the entire thing took about three and a half weeks. "The first week we just saw who was interested, did a warm up video and tested out Zoom to get everybody acquainted with it. The next two weeks we taught them the choreography and the last week we uploaded a review video and did some Zoom calls. On the last Saturday we "met" at 11 a.m. and recorded them doing it a few times so that we could get the best take, and at 1 p.m. we did a Zoom call with everyone who wanted to watch it and we talked about it and displayed the video of the previously recorded dance so they could all watch it."
Meyer said the enthusiasm of the performers was never an issue, but making sure they found a suitable place to perform was. "One of our dancers did it outside, so if it wasn't nice outside it was a bummer for him. Space was an issue. If they didn't have enough room to do steps to the side we had to come up with different options for them."
During their years with the Penguin Players both students had served as assistant choreographer and head choreographer. Working with the players again brought back great memories.
"The best part is just seeing how much fun they have and how much they love what they're doing," McCoy said. "The whole mission of Penguin is showing them for their abilities, not their disabilities, so it shows everyone what they can do. I think another part is before the show we all sit in a circle and talk about what our favorite thing about Penguin is. It's so nice to be surrounded by everyone who loves what they're doing. They work so hard and it's so fun to be there."
For Meyer it was about seeing the entire process work itself out. "I really like seeing it all come together at the end. There are ups and downs the whole semester trying to teach everything, and then it comes together at the end and you're so proud and they are so excited."