Bethany Nicoli, a graduating senior soon to earn her bachelor of science in art, has artwork featured on the cover of the current edition of Harvard University's Kennedy School Journal of Hispanic Policy. The JHP is the oldest student-run academic journal at the Harvard Kennedy School of Government.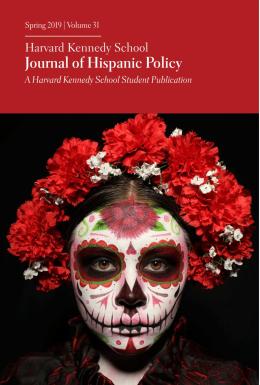 Nicoli is a graduate of Sycamore High School who transferred to the NIU School of Art and Design after earning an associate of science at Kishwaukee College.
She learned of the opportunity to submit cover art for the publication in early 2019 from her sister, Sara Agate, an associate with Benesch Law in their Healthcare and Life Sciences Practice Group and based in Chicago.
The request was to create cover art "representing the US Latina/o community," and the best submission would be chosen for the cover.
Nicoli created a Calaveras, best known from Dio de los Muertos in a monochromatic color scheme with meaning behind the chosen color.
"I am Latina, so this meant a lot to me and was a homage to my heritage roots," Nicoli said. "I love making Calaveras since they're so aesthetically beautiful."
She said that she believes an artist's journey to find their own voice in what they do is the driving force that pushes them to be their best.
"I am still on that journey of exploration to find what best suits me," Nicoli said. "That doesn't mean that I have to settle on one form of art for the rest of my life. I love to do multimedia art which involves animation, photography, videography, graphic design, three-dimensional art, illustration, game design, and one of my favorites, special effects makeup. I am even branching out towards voice over and acting as well. I want to be as well rounded as possible while doing an excellent job at what's challenging me to grow artistically.
"My main aesthetic of art is to invoke emotion whether that is a good feeling or a bad one. Rather, it gravitates towards melancholy with a twist. Not just for the shock value, but to get the raw reactions to the art that makes the most statements; that's what I strive for."
You can see more of Bethany's work on her website.