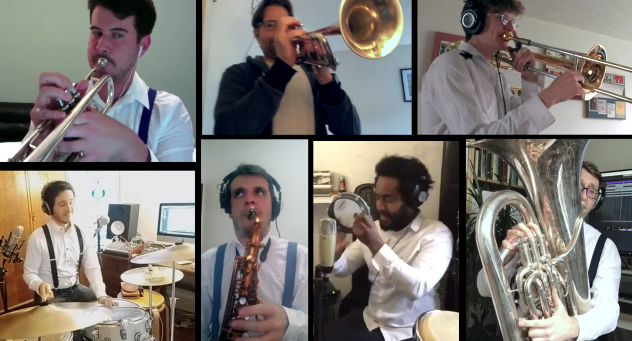 As NIU and the world around us deals with a global pandemic, artists continue to find ways to express themselves. In the College of Visual and Performing arts the learning and teaching hasn't stopped, it's simply evolved to meet the needs and limitations of the situation. Over the coming days, we'll be featuring how NIU students, alumni and faculty in the arts are continuing to do what they love.
Chris Scanlon, a dynamic performer and educator with a diverse performing career in New York City, will join the NIU School of Music faculty as assistant professor of trumpet, beginning fall semester 2020.
Scanlon's group Rio Brass performed Bobby McFerrin's "Don't Worry, Be Happy" virtually.
Rio Brass was founded in 2018 with the intention of honoring the tradition of Brazilian carnival blocos. Every year thousands gather in Rio de Janeiro streets to celebrate carnival and to listen and party to the music of the many different street bands that the city has to offer. With that in mind, trumpeter and founder of Rio Brass, Gabriel Dias who is originally from Rio and has studied music at the Juilliard School in New York created the brass band by arranging and rehearsing popular songs from all over the world.