The NIU Art Museum's School of Art and Design Faculty Biennial exhibition opens Tuesday, January 14 with a public reception on Thursday, January 23 from 5-7 p.m.
Shown every two years, this invitational exhibit features recent artwork and scholarship by current faculty and teaching staff from all divisions of the School of Art and Design and highlights the artistry, research, and instruction found at NIU. A calendar of events includes a series of public programs that present the personal influences, art-making practices and research interests of our participating faculty and may be found by visiting www.niu.edu/artmuseum/events.
Featuring: Michael Barnes, Wes Beeler, Sinclair Bell, Justin Bitner and Angela Johnson, Sasha Bitzer, Todd Buck, Christopher Dolan, Sarah Evans, Billie Giese, Aleksandra Giza, Cynthia Hellyer Heinz, Rebecca Houze, Joseph A. Insley and Jifu Tan, Jim Kearns, Yih-Wen Kuo, Jessica Labatte, Kimberly Martens, Jamie Obermeier, Catherine Raymond, Mike Rea, Nina Rizzo, Kimberly Rodey, Stephanie Sailer, John Siblik, Richard Siegesmund, Geoffrey Todd Smith, Kryssi Staikidis, Perrin Stamatis, Ben Stone, Frank Trankina, Peter Van Ael, Amanda VanValkenburg, Shei-Chau Wang, Katherine M. Webb.
Calendar of Events
Thursday, January 23
Public Reception
5-7 p.m., Art Museum
Tuesday, January 28
Film Screening and Discussion with Nina Rizzo
Join Associate Professor of Studio Art – Painting Nina Rizzo as she screens and discusses interesting films related to her work.
5 p.m., Jack Arends Hall 110
Thursday, February 6
The Weight of Stone: Context and Narratives
Presentation of personal artwork and related research and artistry activities that inspire and direct the work of Professor of Studio Art – Printmaking Michael Barnes.
5-6 p.m., Altgeld Hall 125
Thursday, February 13
Lucca: A New Materialisms Exploration of Space and Time
A discussion of the series of prints inspired by the timeworn inscriptions in the paving stones in the city of Lucca, Italy with Professor of Art + Design Education, Richard Siegesmund. These prints demonstrate the American philosopher John Dewey's theory of aesthetics.
5-6 p.m., Altgeld Hall 125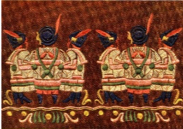 Wednesday, February 19
Design, Heritage, and Cultural Identity in Europe and North America
Professor of Art History Rebecca Houze discusses how designers in both Europe and North America, such as Anna Lesznai, Mariska Undi, and Mary Colter appropriated traditional textiles, folk art, and vernacular architecture to negotiate their roles as modern women in a rapidly industrializing world.
Noon-1 pm, Altgeld Hall 125
Wednesday, February 26
Stars May Fall
Associate Professor of Studio Art – Drawing Billie Giese will share her visual documentation and field observations with cross-disciplinary specialists she visited in fall 2019. These experts located in a variety of geographic locations are notable for working on the human ecological impacts on the natural world in urban/suburban living spaces.
Noon-1 p.m., Altgeld Hall 125
Tuesday, March 3
Art + Science Artist Talk
From biology student to medical illustrator and Professor of Art, Todd Buck will discuss how he combined his passions for art and science and how his work continues to evolve.
5-6 p.m., Altgeld Hall 125
Wednesday, March 4
No Satisfaction: The Exquisite Sociability of the 1970s No Wave
Associate Professor of Art History Sarah Evans examines No Wave filmmaker Eric Mitchell's 1978 film Kidnapped in context with Andy Warhol, late 1970s appropriation art and punk movements.
5-6 p.m., Altgeld Hall 125
Tuesday, March 17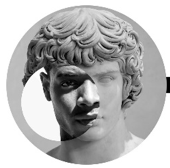 The Art of Difference: Visualizing Race in the Roman Empire
Can we use the concept of "race" in order to understand how peoples in the ancient Mediterranean world understood one another? Associate Professor of Art History Sinclair Bell will address this question through the lens of representations of Sub-Saharan Africans in works of "art" and material culture in the Roman Empire.
Noon-1 p.m., Altgeld Hall 125
Exhibition Support
Artwork and objects for the Faculty Biennial exhibition are on loan from the exhibiting artists and courtesy Western Exhibitions, Chicago.
Public programs are subject to change, addition and weather cancelation. Please phone 815-753-1936 or visit online for latest programing details. niu.edu/artmuseum/events
About the NIU Art Museum
Serving Campus and Community by Balancing Traditional and Contemporary Art to Explore the Connections Made through Visual Culture.
Part of the College of Visual and Performing Arts' vibrant and active arts community on campus, the Northern Illinois University Art Museum is a resource for the NIU campus, local community and beyond. The NIU Art Museum is located on the first floor, west end of Altgeld Hall, at the corner of College Avenue and Castle Drives on the main campus of Northern Illinois University in DeKalb, IL.
Parking is available in the Visitor Pay Lot located at 200 Carroll Ave. Limited metered and accessible parking spaces are available in front of Lowden Hall with accessible aisles and route to Altgeld. Campus parking is free on weekends and after 5 p.m. weeknights.
To request disability-related accommodations for museum programs, please contact the museum at least one week in advance. Northern Illinois University is an equal opportunity/affirmative action institution. NIU is an EO/AA institution.
The exhibitions and programs of the NIU Art Museum are sponsored in part by the Illinois Arts Council Agency through federal funds provided by the National Endowment for the Arts; the Friends of the NIU Art Museum; and the College of Visual and Performing Arts' Season Presenting Sponsor Shaw Media.
Gallery Hours
10 a.m. – 5 p.m. Tuesday, Wednesday, Friday
Noon – 7 p.m. Thursday
Noon – 4 p.m. Sunday
By appointment for group tours.
Exhibitions are free and open to the public.