Dawgma to be sold in 12 locations, including Huskie Stadium.

Huskie alumni traditionally have great taste and the general public can now experience the great taste of Dawgma.

Pollyanna Brewing Company and the NIU Alumni Association announced on Monday, Oct. 28, that their collaborative Kölsch beer Dawgma will be canned in a four-pack, 16 oz. format, and sold locally in 12 different locations, including Huskie Stadium for NIU Football games.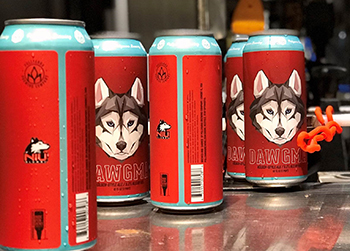 Pollyanna CFO and co-founder Ryan Weidner, '98, M.B.A. '12, quickly noticed the popularity of Dawgma following the 11 tasting dates, hosted by the NIUAA, at various locations in September.

"Given the strong demand that we have experienced for Dawgma in the past month, we are not only thrilled to be able to continue production for the Huskie faithful, but the general public as well," Weidner said.
NIU Alumni Association Executive Director Reggie Bustinza could not have envisioned this success when he presented this idea to Pollyanna in May.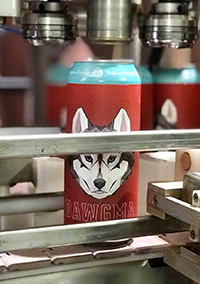 "This collaboration would not be possible without the leadership of the Pollyanna team," Bustinza said. "They took a chance on an idea that the Alumni Association presented to them, and I am tremendously pleased with and proud of the results."

I know that our alumni are huge fans of the beer and it is beyond exciting that people outside of the Huskie family will get to experience Dawgma too." 
Dawgma is also available for sale at the following locations:
American Liquors
159 W. Lincoln Hwy.
DeKalb, IL 60115

The Beer Cellar
204 W. State St.
Geneva, IL 60134

Binny's Beverage Depot
1950 Lincoln Hwy.
St. Charles, IL 60174

Huskies Discount Liquor
1030 Arcadia Dr.
DeKalb, IL 60115

DeKalb Liquor
444 E. Lincoln Hwy.
DeKalb, IL 60115

Flight Tasting Room & Bottle Shoppe
508 Center Pkway Suite C
Yorkville, IL 60560

Hy-Vee
2700 DeKalb Ave.
Sycamore, IL 60178

Lundeen's Liquors
1760 DeKalb Ave.
Sycamore, IL 60178

PJ's Courthouse Tavern
202 W. State St.
Sycamore, IL 60178

Ream's Meat Market
250 S. Main St.
Elburn, IL 60119

Tuscan Sun Wine & Spirits
107 W. Oak Knoll Dr.
Hampshire, IL 60140
This article was originally posted by the NIU Alumni Association.