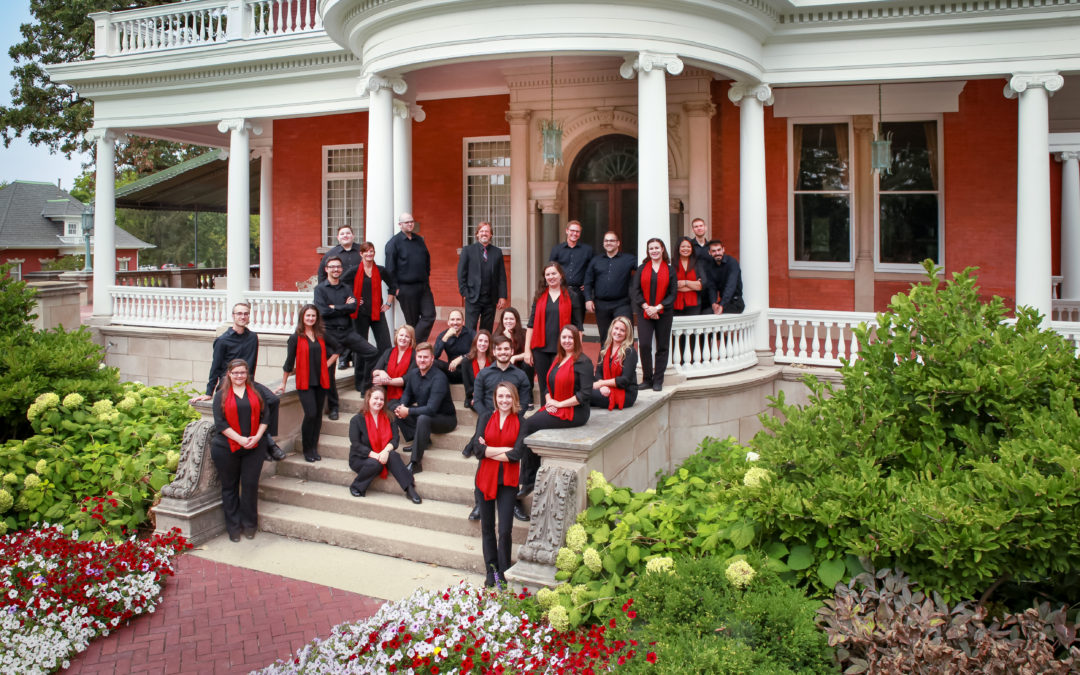 Cor Cantiamo, the choral Ensemble-in-Residence at Northern Illinois University opens its 10th anniversary concert season with a world premiere of the powerful work Verdad/True composed by the acclaimed composer Libby Larsen. The concert will be held Sunday, November 3, at 3 p.m. in Boutell Memorial Concert Hall on the NIU Main Campus.
Larsen was commissioned by Cor Cantiamo to create this work to commemorate their 10th anniversary season, and the commission was partially funded by a grant from the National Endowment for the Arts.
Verdad/True is a 20-minute composition based on first-person accounts of migrant families and poetry of Gabriela Mistral. It captures the emotional turmoil of families struggling with decisions of leaving their homeland and embarking upon the dangerous journey to a promised land of safety and a better future for their children. In addition to this work, the Cor Cantiamo will be celebrating the cultural heritage of Latin America with music from Argentina, Dominican Republic, Peru, and Ecuador.
In preparation for the composition of Verdad, Larsen was granted access to the Latinx Oral History Project that was created by the NIU Center for Latino and Latin American Studies.  Christina Abreu, director of the center, also provided valuable insights into the stories found in the oral history archives.
Larsen took inspiration from her research to begin crafting a vision for her commissioned work.
"These interviews are deeply inspiring and deeply eloquent in words and emotions," Larsen said. "Though each person's story is unique, I recognized common themes and I drew inspiration from them.  I felt really strongly that regardless of the age of the person being interviewed, at the center of each of their stories is "the child", caught up in the story's past and its future while the living vividly in the present.  It's the nature of interviews like the ones I studied to act as memory, as memoire: memories of life, customs and family; memories of reasons why the family migrated; memories of school; and so on.
"It struck me that, of course, the dominant common theme is that children are caught up in the flow of their family's actions and have no agency," Larsen continued. "The "child" lives at the center of each of these interviews. In every instance what happened, how it felt then, how it feels now puts us right next to the child, whether we want to be there or not.  Thank goodness for the compassionate genius of poet Gabriela Mistral, whose work expresses deep, layered emotion which can't be expressed in the stories themselves.  I worked with her poetry to create the piece Verdad/True, inspired by true stories of Virginia Olivares, Elisa Flores Mejia, Ruben Molina,  Juan Molina Hernandez, Gabriela Salas, José Luis Escalante, Erik Flores, Elisa Flores Mejía, Luis Navaes, Maribel Toboda and Maria Isabel Valdovinos-Bhatia."
Cor Cantiamo's opening concert will be rounded out with choral treasures by composers such as Johannes Brahms, Pablo Casals, Morten Lauridsen, Sir John Tavener, Shawn Kirchner and Stacey V. Gibbs.
Tickets for the concert may be purchased online or at the door.
In partnership with this concert, NIU Graduate Student and Instructor Heriberto Ponce is presenting an art installation in the Reynolds Whitney Art Gallery, adjacent to the concert hall in the NIU Music building.  The exhibition Journey to Fallen Dreams: A migration of the persecuted, poor and undocumented to the unknown, includes original prints (lithography, serigraphy, and woodcut) and woven mixed media wall pieces.
Larsen will be attending the concert on November 3 and  remain on campus for a three-day residency with the NIU School of Music.  She will present a composition master class and an all school convocation and work with NIU student ensembles in large and small ensemble rehearsals.
On Tuesday, November 5 at 8 p.m. the School of Music presents an evening concert of Larsen's music featuring NIU Chamber Choir, Wind Symphony, Percussion ensemble, and other student chamber groups, as part of the Eighth NIU New Music Festival.
Cor Cantiamo is a professional chamber choir whose creative programming and artistry weave contemporary music with choral masterworks to present concerts designed to inspire and engage audiences. This ensemble-in-residence at Northern Illinois University School of Music has achieved critical acclaim and recognition for their musicality, impassioned performances, and versatility.  Since their inaugural concert with Morten Lauridsen in 2010, Cor Cantiamo has focused their mission on collaborations with contemporary composers, educational outreach, and recording projects. The result of their efforts includes multiple commercially released CD's and commissioning projects with internationally acclaimed composers of our time including Dominick DiOrio, Libby Larsen, Jaakko Mäntyjärvi, Cecilia McDowall, Timothy C. Takach, and James Whitbourn.
Distinguished recognition for this ensemble's artistic output is highlighted by multiple foundation grants awarded to Cor Cantiamo from the National Endowment for the Arts, the Illinois Arts Council, The Wurlitzer Foundation, and many more local family and community foundation organizations.
Their touring schedule regularly includes appearances on community concert series, college and university campuses, and professional conferences. Cor Cantiamo has performed at multiple American Choral Directors Association (ACDA) division and state conferences.  In 2020, Cor Cantiamo has the singular honor of being invited to premiere the ACDA Raymond Brock Commission competition winner for the Central/North Central Division Convention. The ensemble also reaches thousands of classical music patrons through annual concerts that are broadcast on Northern Public Radio's "Encore!" program (WNIU 90.5 FM).
Cor Cantiamo's educational outreach programs, including the Masterworks Project and All-State Audition Clinic, annually reach hundreds of high school choral musicians. These educational outreach programs empower the students to reach for their highest musical goals. Through rehearsals with professional musicians, master classes, and combined performances of choral orchestral masterworks, the high school students learn to work on their craft and discover how performing choral music can be a lifelong journey.