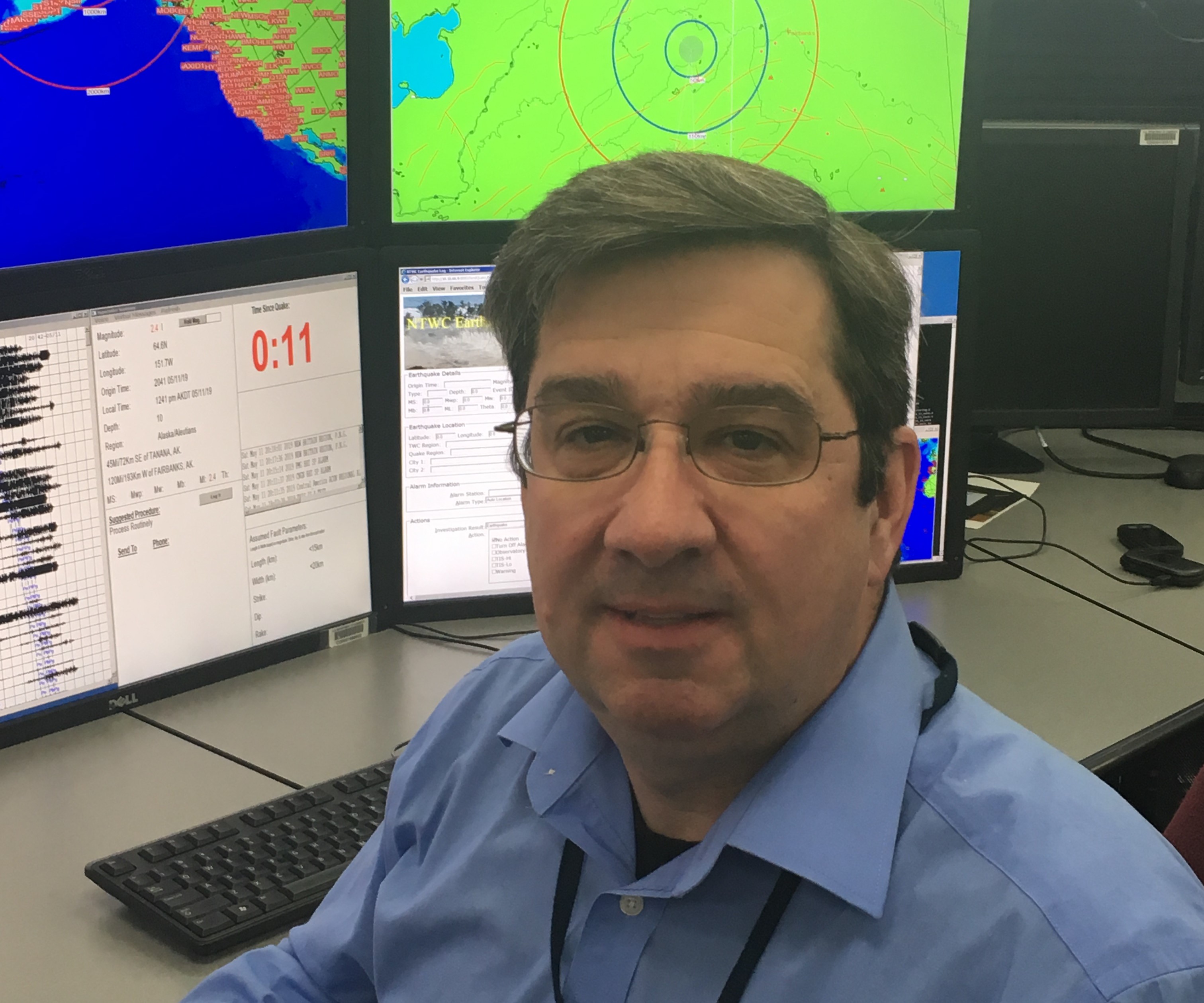 His colleagues in seismology and geophysics may have a difficult time agreeing with that statement, based on Gridley's 35-plus-year esteemed career and the impact he's made in his field.  Still, Gridley insists his successes have been due to the failures he endured and learned from.

"You can't be afraid to fail.  I think that's the key," Gridley says.  "The only mistakes I made were the ones I didn't learn from.  From a very early age, we learn a lot from the negatives."

As a child, Gridley was intrigued by geology, math and physics.  He remembers being inspired by his science and math teachers who sparked his curiosity, but it was a natural phenomenon that cemented his career aspiration.

"I was walking to school one day, and as I was waiting for a coal train to go by, I noticed something on the train.  This gray sediment was all over the cars, and so I asked my teacher what was that about, and he began to tell me about Mt. St. Helens erupting," Gridley remembers.  "From that point on, I was hooked."

Gridley, who earned a bachelor's degree in geology, with minors in physics and mathematics from NIU, went on to earn a master's degree in geophysics and seismology from New Mexico Institute of Mining and Technology. He holds a doctorate in geophysics and seismology from The University of Texas at El Paso and a law degree from the University of Tulsa.  It was while taking undergraduate classes at NIU, though, that Gridley received some of the most important advice he would ever receive.

"My professor at NIU, Dr. Malcolm P. 'Mac' Weiss, was famous in geology.  He gave my class the greatest advice, which was only two words—'Get involved.'  It stuck with me, and I always sought to be involved, and, later, I was fortunate to work for companies that appreciated that."

Gridley built a career by thinking big for entities like Amoco Corp., Halliburton, the National Science Foundation's (NSF) Industrial Research and Development Information System (IRIS), and the Office of Naval Intelligence.  In December, Gridley was appointed to Director of the National Tsunami Center, based in Palmer, Alaska.    

The National Oceanic and Atmospheric Administration (NOAA) sought Gridley out for this very specific and intense role.  NOAA's National Weather Service operates two tsunami warning centers—one in Alaska and one in Hawaii—which are staffed 24 hours a day, seven days per week.  In Gridley's role, he's analyzing whether conditions are right for a tsunami and making a quick call.  In general, there are two things that create a tsunami—a big earthquake in certain parts of the world coupled with a measurable wave in the ocean—and while tsunamis cannot be prevented, they can be predicted and communication is key.  

"We're protecting life and property with every call we make, and we have five minutes to make a decision when there is an earthquake," Gridley says. "With this job, there are long periods of intensity and long periods of nothing, and you just have to get used to that."

For instance, on the Fourth of July, when a 6.5 earthquake hit outside Los Angeles, Gridley was on duty.

"That created a very busy day for us," he remembers.  "We were providing statements and assuring everybody that there is no tsunami because, for our team, it's not just warning people when a tsunami is going to happen, it's about assuring them that one is not going to happen."

Gridley says what he likes most about his work is the challenge it brings.  While many of us might think the more technical aspects of the job would be the difficult part, Gridley contends that it's more.

"It's not just the science and the technology challenge for me anymore," he admits.  "It's the challenge of the people.  And the challenge of the system.  Honestly, I have notebooks full of great ideas, but there just never going to see the light of day, if I can't connect with people to get them out.  And my professors planted that seed with me at NIU."

As a part of NOAA, the National Tsunami Warning Center is considered part of the National Weather Service. However, because tsunamis are not a weather phenomenon, this pairing can sometimes feel like a mismatched fit.  Gridley and his team have had to learn quickly what weather lingo they need to use and how the weather service operates so they can translate tsunami information into something meaningful and, in part, use the traditional weather information channels to disperse their warnings.  

Looking back on his career, Gridley says he built his career on a couple of things.  First, he followed the things that intrigued him, and these things moved him to action. Second, if someone told him something couldn't be done, that usually got his undivided attention, and he set out to prove them wrong.

"Everyone talks about passion, but people misunderstand what that word means.  The word passion means 'to suffer,'" he says. "Just ask my wife and our children about passion.  We've moved 10 times over the years, pulling my children from schools and moving to new states, all in pursuit of my passion."

However, Gridley's latest opportunity came at the exact right time.  His youngest child began college last year, and that freed Gridley and his wife up to consider another move for this position.

"My wife told me, 'I want you to find something that's a real challenge for you, something that you really like and that's an adventure for us,' and then this literally fell in our laps."

While Gridley hopes his stay at his post in Alaska will be a long one, he looks forward to getting back to a university someday, to pass on some of his own seasoned advice.

"When I'm ready for retirement, I think I'd love to teach at a university.  I don't want to do the research.  I don't need to compete for my own research grants.  What's more fun and more direct would be letting the students benefit from my experience while they do their own research and forge their own way."
This article was orginially posted by the NIU Alumni Association.